[Update 5/14/2019] After careful consideration, Oak Meadow has decided to reevaluate The Brattleboro School Without Walls program and will not be enrolling students for the 2019-20 school year.
We encourage interested students and parents to reach out to our Director of Admissions, Wendy Richardson, to discuss the options available to you in our distance learning program. 
————————————————————————————————————–
What does your ideal school week look like?  How do you learn best? You might do well in an organized school setting, or you might flourish when you have the freedom to learn independently. At Brattleboro School Without Walls (BSWW) creative, self-directed, motivated high schoolers enjoy the best of both worlds.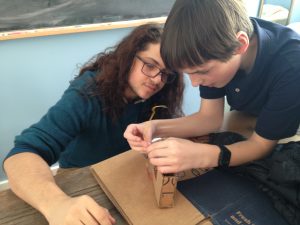 Spend the day at our downtown Brattleboro, Vermont learning center taking full-credit Oak Meadow courses, getting one-to-one teacher support, and collaborating with a small group of like-minded students. Then earn credit by doing the things that inspire you outside of our walls: intern with a local organization, work with a community mentor, engage in an independent study, or take classes at local arts establishments or other area schools and colleges. It's a hybrid educational model that encourages self-direction while providing academic structure and support.
The learning center is located within Oak Meadow's office headquarters, in the Brooks House on Main St. Students have access to wifi, copying machine and basic school supplies, kitchen facilities, and a comfortable lounge area. BSWW follows the local public school calendar, including weather delays and cancellations.