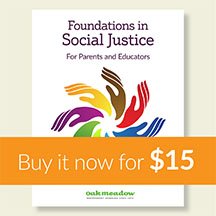 Newly revised for 2023, Oak Meadow's Foundations in Social Justice is practical, timely course designed to help parents and teachers bring social justice principles and action into their communities and classrooms.  Through a wide variety of illuminating readings, activities, discussions, and reflections, you will gain a more complex understanding of how our actions impact others. By increasing our responsiveness to issues that arise within our families and communities, this course can help us work toward a safer, healthier, more equitable world for everyone.
The course begins with an exploration of the principles of social justice, and includes units on racial justice, economic justice, disability justice, and gender justice, as well as touching on many related topics. Careful attention is paid to helping parents and teachers support an awakening sense of social justice in children.
Some activities and reflections are meant to be done individually, and others are more effective in a group setting (even if it is just a group of two). The reflections are mainly aimed at adults and teens, and many offer rich discussion points that guide parents and teachers in identifying the relevant and appropriate learning touchpoints to share with children. Participants go through each unit at their own pace, either on their own or with other adults. The course is delivered in digital form as a downloadable PDF. A certificate of professional development (20 hours) is available for those who complete the course. View Table of Contents and a sample lesson.