In an effort to expand our reach and connect with even more students, teachers, and schools across the United States, Oak Meadow is hitting the road to participate in a series of homeschool conferences, conventions, and events to showcase our unique curriculum materials in person.
Whether you are a current Oak Meadow family, a charter school educator, or are just beginning to learn about homeschooling, the Oak Meadow team invites you to join us at one of these upcoming conferences. During these events, attendees have the opportunity to flip through Oak Meadow curriculum materials, and they can ask questions and engage directly with our team. These events are also a great opportunity to network with other educators and families who share your passion for innovative and flexible learning opportunities.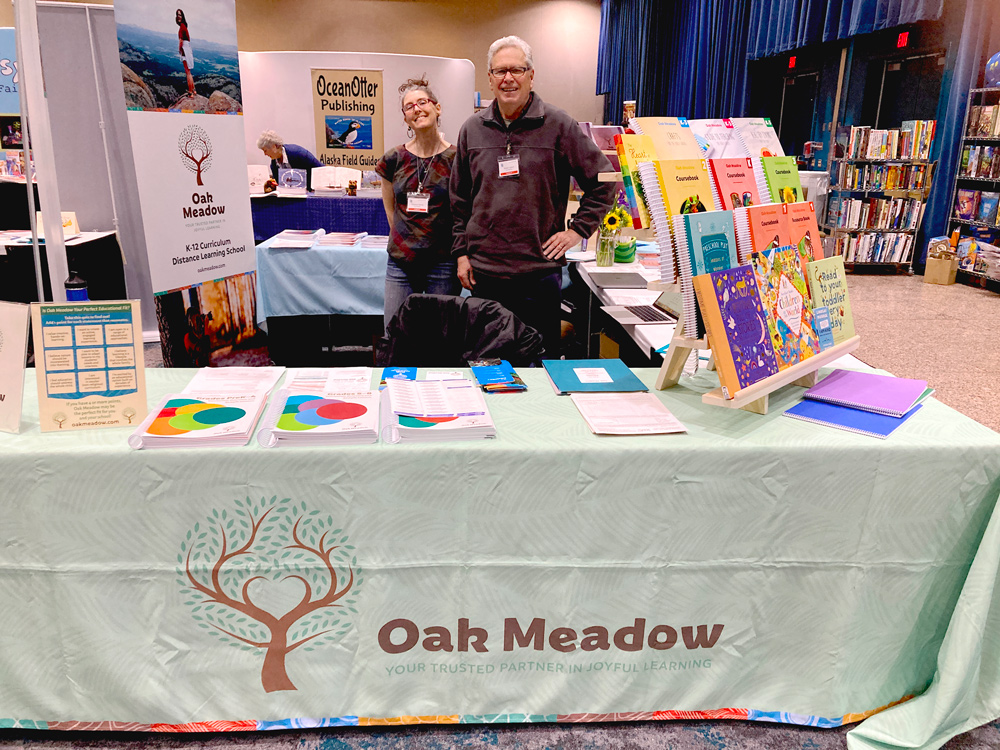 Our 2023 Homeschool Conference Schedule
CCSA Charter Schools Conference
Sacramento, CA – March 13-16 
IDEA Curriculum Fairs
Soldotna, AK – May 2 – 3
Anchorage, AK – May 4 – 5
Fairbanks, AK – May 8 – 9
Juneau, AK – May 11
Curriculum Showcase at the Cottonwood School
El Dorado Hills, CA – May 12 
Please note: This curriculum showcase is only open to students and families of the Cottonwood School.
Florida Homeschool Association Homeschool Convention & Curriculum Expo
Daytona Beach, FL – May 17
Texas Homeschool Expo
Grapevine, TX – June 9 – 10
Northern California Homeschool Convention
Rocklin, CA –  July 22
Southeast Homeschool Expo
Atlanta, GA –  July 27 – 29
APLUS+ Annual Conference
Sacramento, CA – October 23 – 25
Going to a homeschool conference?
Find your conference listed above, and send us a message so we can plan a meet up!
If you're planning to attend a conference that's not on this list, we still want to hear from you! Let us know the name of the conference, and we might add it to our list for next year.
And remember, you can always give us a call at 802-251-7250 or reach out to chat with one of our educational counselors.