We have a limited number of start dates available for October and later for all grade levels. If you're interested in enrolling, we recommend filling out an application as soon as possible to secure your start date.
Oak Meadow's accredited distance learning school is a unique model that combines the best of both worlds: an affordable independent school education and the freedom of homeschooling. When you enroll with Oak Meadow, you join a vibrant community of interesting, motivated, and dedicated teachers and learners.
Enrollment in our distance learning school provides…
---
All curriculum materials:
Your curriculum materials are included in the cost of tuition. Enrolled students receive print and digital versions of their Oak Meadow coursebooks.
Teacher support:
Our teachers provide your student with support, narrative evaluation, and grading. Your family will develop a meaningful relationship with your Oak Meadow teacher, who will provide personalized help and feedback. While teachers work one-on-one with each student, they do not take on the role of tutor. Most of the teaching comes from our print-based materials, and your Oak Meadow teacher is available to guide progress through the feedback they provide.
Flexible start dates & rolling admission:
Your student can begin coursework year-round. Start dates are assigned on a first come, first serve basis. Since we offer rolling admission, there is not a firm cut-off date for applications; however, spots for our distance learning school are usually limited by August.
Administrative support services:
After you apply, you will be connected with an educational counselor who will work with you through the enrollment process, including correct grade placement and course selection. Our registrar maintains complete records and transcripts and issues certificates of enrollment and high school diplomas. Our trained school counselor is available to help with personal, social, or emotional challenges that might arise.
College counseling:
Our experienced college counselor provides information about academic planning, SAT and ACT information, the college admission process. See which colleges Oak Meadow graduates have been admitted to here.
Connection and community:
While Oak Meadow students and families study and learn at home, they are part of a virtual school community. Our teachers lead online workshops, book clubs, and pen pal programs to bring students who would like to participate together; we send an enrolled-only newsletter to share school and student news; and high school students can join OM Awesome, an online discussion group.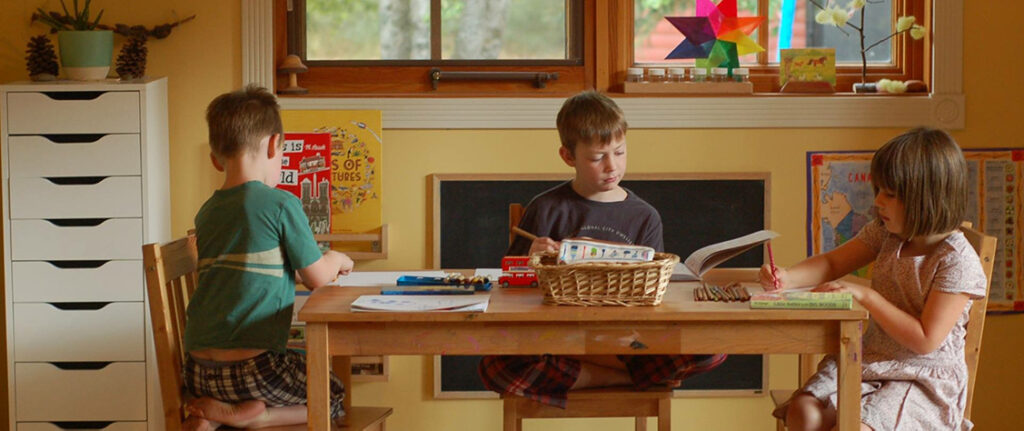 How does enrollment work?
Once you have been accepted, we will set a Start Date and ship your curriculum materials.
Students and parents will communicate with their assigned teacher via email, phone, or Zoom. Parents are given access to our parent portal, the Oak Meadow Gateway, to track their student's progress.
Lessons are submitted electronically on a schedule established by the teacher (submission guidelines vary by grade level).
Teachers provide written feedback (and grades for the upper levels) on all submitted work, and narrative evaluations and grades at the end of each semester and end of the year.
Evaluations, grades, and high school transcripts are kept on file by the Oak Meadow registrar.
What's next?
Explore, ask, decide!
Ready to Enroll?
You've done your research, attended an information session, and you're ready to choose Oak Meadow. All that's left to do is apply! Fill out an application form to be considered for enrollment >