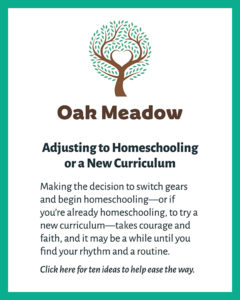 Here's you free printable!
Adjusting to Homeschooling or a New Curriculum (PDF)
More tips from the Oak Meadow archives
The Freedom to Be Flexible: The Oak Meadow curriculum is designed to be flexible so home teachers can adapt it to their family's needs, but knowing how to do this does not always come easily. This article discusses ways to make adjustments and to optimize all the learning opportunities the curriculum offers.
Motivating Middle Schoolers: There is no doubt that middle school students can be challenging to engage at times, and this can be especially true for home teachers who are also parents. This article includes tips on how to accommodate and encourage your middle schooler's need for independence within the homeschooling environment.
Need more guidance? Professional assistance is available.
Oak Meadow offers a homeschool support consultation service, and several of our teachers provide private tutoring. Click here to learn more about these support services.