Many new homeschoolers wonder how best to set up their homeschool room or learning space. The possibilities can seem overwhelming. Here are some tips as you envision and establish a practical spot in your home where homeschooling can be comfortable and productive.
Keep an Open Mind
Your homeschooling room doesn't need to look like a classroom! You will need a work area with a flat surface, comfortable seating, good lighting, and space for storage. Ideally it should be located near wherever the parent or home teacher will be so that they can be available for questions when they are not directly involved in the student's work.
Find The Right Work Surface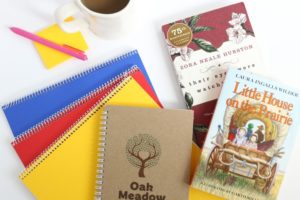 If possible, dedicate a table or large desk where work can be spread out, left undisturbed, and returned to as needed. If the work surface must meet more than one family need, consider using a table that is only used occasionally or for just one other purpose. With a shared surface, make it a priority to always keep it clean and uncluttered, and develop a family habit to clean up thoroughly between uses.
Prioritize Comfort
Choose a chair that you don't mind sitting in for a long period of time. Uncomfortable seats make for fidgety students – and parents! Make sure you have enough space and comfortable seating for each student as well as the adult(s) who will be helping them. Consider seating for additional collaborators, too.
Set Up Your Supplies & Materials Nearby
Some families set up a homeschooling space by dedicating a room in their home that is just for school time, while others use the kitchen table. Some use a large chalkboard for lesson work or a seasonal drawing. Make sure to have all your supplies handy, and have your children keep things organized.
Locate shelves and organizational units so that materials can be kept easily at hand. You'll want some combination of shelves, drawers, and other storage options to keep supplies organized. You will also need a place to store curriculum, reference books, and library books. An inbox and outbox or a set of dividers can be helpful for sorting work in progress. Lesson books, desk supplies, art supplies, science tools, math manipulatives, and other materials also need storage space.
Eliminate Clutter & Distraction
Eliminating visual clutter from the child's homeschool room and play space can be quite calming. Rotating items for play eliminates having everything out at once and frees up space for creative uses. Some toys might be put away for many seasons and only brought out for a few weeks before they are put away again. Toys that are used year round (like blocks and dress-ups) can be neatly stowed each afternoon. Even very young children can get into the habit of helping to "put the toys to bed" when play is over for the day.
Keeping noise to a minimum can also make a big difference. During school time, try to eliminate background noise like music, television, or computer. Transitions between activities can be made easy by singing a song–make up your own or find new ones in the library, online, or in our bookstore under K-8 Resource Books.
Consider Aesthetics
Aesthetics are also very important to consider when preparing your homeschooling space. Are the colors pleasing to those who will be using the room most? If you have the option of repainting the walls, choose a restful, peaceful color such as pale green, light blue, or muted lavender. You might find it useful to paint part of one wall with chalkboard paint.
Create a visible homemade art gallery to display current academic work and artistic creations. If possible, choose a wall that is not directly in the learning space, to keep the learning area simple and uncluttered. You might use a large bulletin board or a series of cork wall tiles to define your gallery, or simply choose a wall to decorate and let it declare itself!
Make Clean Up Simple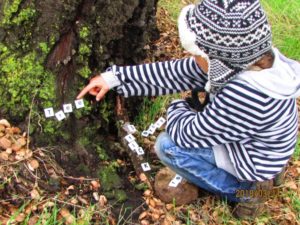 Place a trash container and a recycling bin near the workspace to simplify cleanup. A washable plastic tablecloth can be helpful in quickly transforming an academic workspace into an arts-and-crafts space and back again. If budget allows, a prep sink can be a helpful addition for messy experiments and art cleanup.
Keep your homeschooling workspace as free of clutter as possible. If clutter is unavoidable, find ways to trick the eye by hiding it in baskets, wooden crates, or cabinets, behind doors or curtains, or beyond a folding screen. A fabric "skirt" around a side table can hide many things while storing them nearby until they are needed.
Go Outside!
Don't forget to consider the spaces that are available outdoors! Perhaps there is a porch, gazebo, patio, or garden table that could be used in warm weather. Some of the same principles apply to outdoor learning spaces: comfortable furniture, shelter from the bright sun, and a flat space to work on. A large, flat board can be used as a workspace on grass or inside a tent. A hammock can be the perfect cozy spot for reading and studying. A large basket can be used to store materials and carry them to/from the house. Older homeschoolers might expand their horizons and study at the park, the library, or a local cafe.
Consult Your Student
As you consider how to set up your homeschooling room, ask the student who will be using it what they would find most helpful. Be flexible and allow your learning setup to evolve as you discover what works best. Reassess your space periodically, and make changes and improvements with the input of those who use it most.
Above all, don't worry if you don't have the perfect space! Let your heart, creativity, and experience guide you. Homeschooling, like life, is a work in progress.
Keep Learning…