The unstructured days of summer offer a perfect opportunity for students to explore new works of literature outside the homeschool curriculum. This list is a compilation of suggestions from Oak Meadow teachers and enrolled students. Many of the books are newly published, while others are classic reads. While we order these books by grade level, keep in mind that these are just suggestions — your student should feel free to explore whichever of these summer reading books catch their eye based on their interests and individual reading levels. Happy Reading!
Grades K-3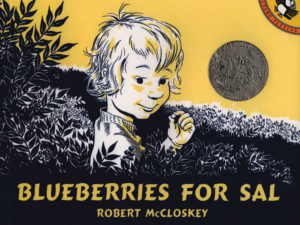 Blueberries for Sal by Robert McCloskey: A fun adventure as a little girl goes blueberry picking with her mother.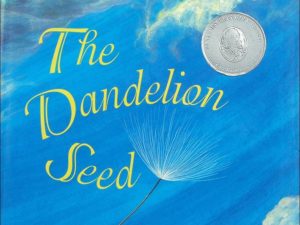 The Dandelion Seed by Joseph Anthony: The Dandelion Seed is a story about a seed that is scared to let go, but the wind blows it away.
Caps for Sale by Esphyr Slobodkina: A hat salesman finds some monkey fun after taking a nap under a tree.
The Keeping Quilt and other books by Patricia Polacco: As a way to remember their home in Russia, Anna's family sews a quilt from old clothes from their family. Remnants from Aunt Havdalah's nightgown and Aunt Natasha's apron become part of a quilt that is used in many ways, including as a Sabbath tablecloth and wedding canopy.
Pigs in the Mud by Lynne Plourde: It's mud season, but there's more than mud in the middle of the road: There are pigs, hens, sheep, and bulls in the way. That won't do. For a car to get through, somebody's gotta shoo!
If You Were My Baby by Fran Hodgkins: Fran Hodgkins describes a variety of animals rearing their offspring with encouraging words.
Grades 4-5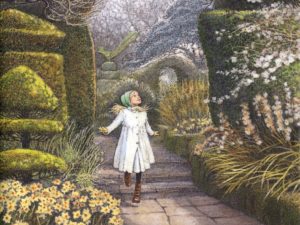 The Secret Garden by Frances Hodgson Burnett: A 10-year-old orphan comes to live in a lonely house on the Yorkshire moors and discovers an invalid cousin and the mysteries of a locked garden.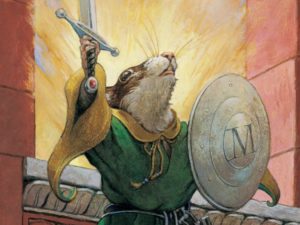 Redwall Series by Brian Jacques: Redwall Abbey, tranquil home to a community of peace-loving mice, is threatened by Cluny the Scourge savage rat warlord and his battle-hardened horde.
The Bat Poet by Randall Jarrell Pictures by Maurice Sendak: There was once a little brown bat who couldn't sleep during the day. Before long he began to see things differently from the other bats. The Bat-Poet is the story of how he tried to make the other bats see the world his way.
Chester and Gus by Cammie McGovern: Chester has always wanted to become a service dog. When he fails his certification test, it seems like that dream will never come true — until a family adopts him to be a companion for their ten-year-old son, Gus, who has autism. But Gus acts so differently than anyone Chester has ever met.
George by Kate Pavao: George is a book about a transgender fourth-grader who increasingly learns to be herself and to tell others about her secret. Along the way, she finds many supportive advocates, but her greatest ally is her best friend, Kelly.
Front Desk by Kelly Yang: Ten year-old Mia Tang moved to the US for a better life, but so far, it's a life where she runs the front desk of a motel while her parents clean rooms. Based on author Kelly Yang's real-life experience immigrating to America from China, this novel explores how one little girl overcomes language barriers, discrimination, and her own lack of confidence to find her voice — and use it to make a difference.
Artemis Fowl (series) by Eoin Colfer: Artemis Fowl is a series of eight science fantasy novels, starring teenage criminal mastermind Artemis Fowl II.
Primates by Jim Ottaviani: Primates is an accessible, entertaining, and informative look at the field of primatology and at the lives of three of the most remarkable women scientists of the twentieth century.
Because of Winn Dixie By Kate DiCamillo: The summer Opal and her father, the preacher, move to Naomi, Florida, Opal goes into the Winn-Dixie supermarket and comes out with a dog. A big, ugly, suffering dog with a sterling sense of humor. A dog she names Winn-Dixie.
Grades 6-8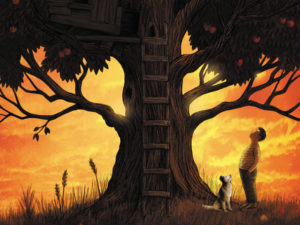 The Truth as Told by Mason Buttle by Leslie Connor: Mason Buttle is a large, sweaty kid with learning disabilities. Mason also has a big heart. When his best friend dies under suspicious circumstances, Mason becomes the focus of Lieutenant Baird's investigation.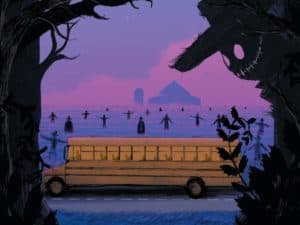 Small Spaces by Katherine Arden: Ollie Adler saves an old book from a distraught woman threatening to throw it into a river. The book leads Ollie into a dangerous, supernatural struggle for survival at a local farm.
The True Blue Scouts of Sugarman Swamp by Kathi Appelt: Raccoons, a twelve year-old boy, and a world-class alligator wrestler are some of the characters in this delightful story.
The Benefits of Being an Octopus by Braden, Ann: Zoey is a middle school student constantly taking care of her younger siblings, being bullied or ignored at school, and worrying about things like the power being turned off or not having enough food to eat.
Amal Unbound by Aisha Saeed: Amal dreams of being a teacher, but soon she discovers that for a girl in Pakistan, an education is not guaranteed. After a car accident, she is forced to be an indentured servant in the household of the village landlord.
The Bridge Home by Padma Venkatraman: Two sisters run away from an abusive homelife and find themselves living in the streets of Chennai (India) Full of both fun moments and harsh realities.
Out of my mind by Sharon Draper: An eleven year-old girl with Cerebral Palsy has limited bodily functions. Her mind works well, but she is unable to speak.
Girls Who Looked Under Rocks by Jeannine Atkins: This book portrays the youths and careers of six remarkable women whose curiosity about nature fueled a passion to steadfastly overcome obstacles to careers in traditionally men-only occupations.
These summer reading suggestions are just the tip of the iceberg — share your suggestions on Facebook or Instagram using the hashtag #OMSummerSchool.