"I know you, I walked with you once upon a dream." – Sleeping Beauty
Fairy tales and other traditional stories offer children many chances to witness the struggle of "good" versus "evil." By introducing this in oral story form, children can connect with the parts that are important for their individual development at that point in time. When told in a matter-of-fact way, and from an adult who believes in the story's merit and its place in child development, children will naturally relate to the underlying, archetypal themes of the stories. With this approach, the child's imagination will not be taken to a place that is too frightening or disturbing, or be forced to focus on elements that are emotionally-charged in the adult perspective.
Fairy tales provide a reference for all the fears conjured up in a child's world. Facing these fears at a young age can help the child to move through different challenges in later years and stages of life. Fairy tales are a way for the child to imagine—in the safety of the mind's eye—what it feels like to be scared, honorable, brave, selfless, selfish, frustrated, wicked, embarrassed, silly, giddy, left out, confused, and more. This is one of the ways in which social and emotional intelligence is fortified. Many parents feel the need to sanitize stories to remove all the challenging elements, and yet stories that are grounded in archetypal themes can help children grow into strong adults.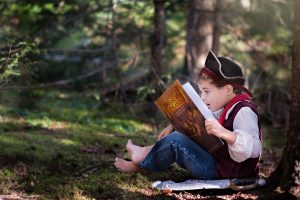 Parents can often be at odds with the fairy tales because the characters are narrowly defined, known for their beauty, cruelty, foolishness, cleverness, or other singular attribute. Their actions are also, to the adult mind, frustratingly stereotyped: a princess waits for her prince, a simpleton loses his way, a wicked person tricks an innocent. While it's tempting to attach these characters to their genders, orientations, or race, it is important to remember that archetypes speak to the universal traits that all human beings have within: the valiant soldier, the trickster, the loving nurse, the wicked witch, the noble prince, the sweet and caring mother, the beautiful maiden, the knowledgeable father, and the lonely hero. We all are every character inside.
Fairy tales and traditional stories show that good overcomes evil, and provide children with an unconscious sense of empowerment when they face their own personal struggles. It is important for children to have an inner sense that good will prevail. We want young children to believe and embrace that the world is good.
Of course, not every story will resonate with every student or every parent. For this reason, Oak Meadow parents are asked to read the tales before telling them to their child and to modify or substitute when necessary. In addition, you are encouraged to read and choose stories that will meet the needs of your individual child. That's the challenge of teachers in any educational setting: to meet the children where they are and to encourage them forward from there.
This post was co-written by Oak Meadow teacher, Leslie Daniels, and Oak Meadow Director of Curriculum Development, DeeDee Hughes.