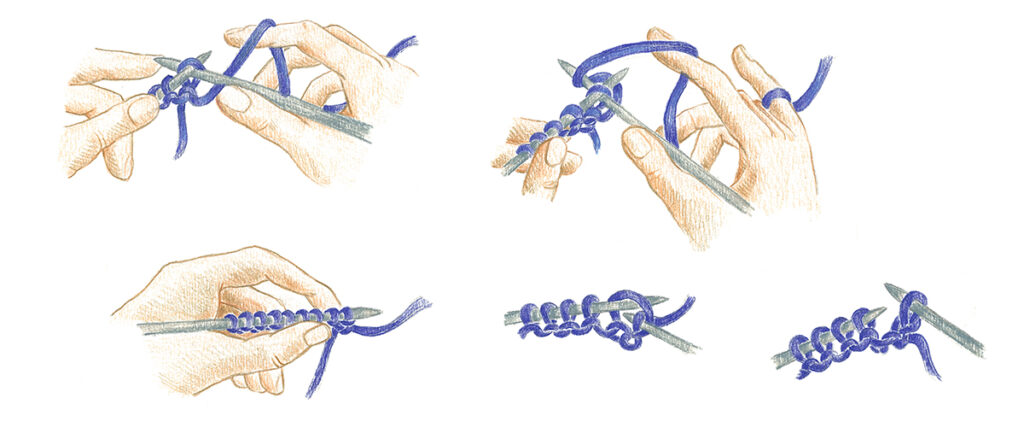 Rhythmic handwork is part of Oak Meadow's coursework for grades one through three. Handcrafts, such as knitting, are exceptional activities for integrating thoughts, feelings, and actions. They can be tremendously harmonizing and satisfying. Learning how to knit is also particularly beneficial for children who are just learning to write. Knitting strengthens their fingers and hands, and helps them become more in control of their hand and finger movements.
To help you get started, we're offering suggestions and simple alternatives that will help to meet the "heart" of handwork, specifically in how to knit with beginners.
How to Knit with Beginners:
---
Start Simple
Before your kids learn how to knit with needles, first try finger knitting, the knitting mushroom, or the wooden knitting star. Children love those "tools," and the process is simple, repetitive, and soothing (just like knitting should be). ​
Teaching knitting as an inexperienced teacher can be challenging. Once you've introduced these "pre-knitting" activities, you may also want to find a more experienced knitter to help, if possible. If you don't have a friend, relative, or neighbor who can teach you, check with your nearest yarn, fabric, or craft store. You don't need to learn, nor teach, anything complex at this time. Casting on, the knit stitch, and casting off are all that you and your child need to learn at the beginning. 
Get Familiar with Your Knitting Materials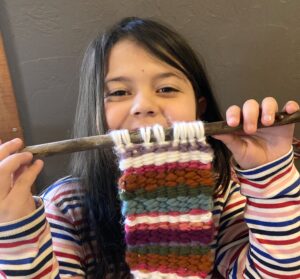 Start by letting your kids play with the yarn. Have them wrap it, wind it, tie bows with it, braid it, or touch it, just to get the feel of yarn on their skin. Then when it comes time to knit, they already have the awareness of yarn as a material.
Another idea is to start by letting kids make their own knitting needles. You can sand down chopsticks smooth, and then glue wooden beads to the ends: nice and simple. This craft gives kids a sense of ownership over their work before they began knitting, which can increase their frustration tolerance!
Utilize Step-By-Step Videos, Stories, and Guidebooks
Sunny's Mittens is a great book with a story that contains knitting directions right in the events of the tale. As you read, take time to stop and knit with your child, and then pick the story back up again. 
We also highly recommend the DVD, The Art of Knitting 4 Kids . If you're aren't comfortable knitting or don't have access to a knitting tutor, this video is a great way to visualize the knitting process! Be sure to also check your library, as many libraries have knitting clubs.
Another site that we absolutely adore and share with Oak Meadow families is called "Knitted Bliss." It includes story books to inspire future knitters for three different age groups: ages 2-4, ages 4-6, and ages 6-9. The title of each book is a joy in itself!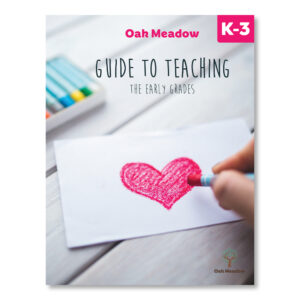 Finally, you can find step-by-step knitting instructions for beginners in Oak Meadow's Guide to Teaching the Early Grades. This book is part of our K-3 Essentials package and includes helpful guides for tackling all the handcrafts in the Oak Meadow curriculum.
Remember that learning to knit is a process just like learning to read or write. It takes time and patience, and it may be that your student isn't ready for this handcraft. if your student doesn't initially take to knitting, you may need to set it aside until they feel ready. Keep the materials accessible and nearby—you never know when your student might be ready to explore the wonderful world of knitting.
Keep Learning…