Outdoor activity for autumn
Circle Time: Starting your homeschooling day with purpose
Curriculum activity: Gnome math
OM educational counselor tip: Aligning expectations with reality
Inspiration!
Outdoor activity for autumn: Make a walnut boat
At Oak Meadow, we're in favor of any activity that gets us outside to explore and enjoy nature. While there is no end to the amazing crafts you and your child can make from natural materials, there is a particular sort of delight that comes from making your own toys. Here we share a sweet, simple handmade toy that uses easy-to-find materials, most of which you can collect on a nature walk. Afterward, find a spot by a stream or puddle to sail your Walnut Boat. Or make a whole fleet and have sailboat races. To paraphrase the Water Rat from Kenneth's Grahame's classic story, The Wind in the Willows, there is nothing quite so much fun as messing about with boats. Bon voyage!
MATERIALS
Walnuts halves
Knife
Beeswax or some old crayons
Glass jar
Sticks, broken or cut into 4-inch lengths (these will be the masts)
Large leaf, one for each sail
Hole puncher
Optional: small candle (such as a birthday candle)
INSTRUCTIONS
Put crayons into the glass jar, and melt in the microwave or in boiling water until the wax is liquid. Carefully fill the empty walnut shells with melted wax. Let it cool slightly (until it is the consistency of peanut butter).
Insert a stick into the semi-hard wax. Once the wax cools completely, the mast will hold snugly.
To make the sails, punch two holes through a leaf and thread your sail through the mast.
Now your boat is ready to sail! Place the boat into a puddle, stream, or tub of water and gently blow on the sail.
Also try this! Substitute the wooden mast and sail for a small candle (such as a birthday candle). Affix the candle into the center of the walnut shell as you would the mast, light it, and push it off into the water at dusk! Beautiful!
Circle Time: Starting your homeschooling day with purpose
Starting the day with circle time helps focus everyone's energy after the busy morning routine and brings you and your child together, as a team, ready for the day's work. Even if the circle consists of just you and your child, it can become an important part of the day. Try these tips for circle time success.
Engage the senses: Use a small bell, table chime, or musical instrument to signal the start of circle time with a sound. Singing gets everyone breathing deeply (great for waking up the brain!) and fingerplays or movement activities engage the senses of touch, sight, and sound. The rhythmic actions of singing, movement, verses, and laughter get the group energy moving in harmony.
Repeat verses, songs, and fingerplays throughout the month: Repetition gives you the chance to play! Instead of constantly learning new words and songs, repeating favorites lets you and your child play with the tempo, add movement, and get goofy. Sing "I've Been Working on the Railroad" fast, then slow; loud, then soft; in a mouse voice and in an elephant voice; in a whisper, then a shout. Act it out (don't forget the banjo playing!) and see how many ways you can fiddle with it. Try a different way each day.
Keep the format simple and predictable: To keep your circle time special, choose a structure and stick with it so you and your child know what to expect. You might open circle with a bell sound, sing a song, do a movement game or fingerplay, talk about the plan for the day, and then end with a verse. Keep circle time short so that everyone looks forward to the next day's circle time, when the fun will continue.
Here are some circle time resources you might like:  Oak Meadow Circle Time Songs CD and A Child's Seasonal Treasury
Curriculum activity: Gnome math
Oak Meadow math uses stories to introduce math concepts such as the four processes, and little gnomes take on the personality of each process. Plus likes to stuff his pockets full of jewels while Minus gives away jewels to help others. Times collects two times, five times, ten times as much as all the others, and Divide shares everything equally. The math gnome stories (found in our Grade 1 Resource Book) are meant as a jumping off point for you and your child to create stories of your own.
In "The Elf King Asks for Help," the Gnome King receives a letter from the King of the Elves:
Dear Gnome King,

I am writing to ask for your help. Every year my elves have to keep count of the nuts that fall so we can divide them equally among all the little animals. But this year so many nuts are falling that my elves are having trouble counting them all. Soon the nuts will spoil and the animals will not have food to eat for the winter. Do you have any gnomes who know how to count? Please send them to help us!

Your Friend,
Elf King
Of course, the four gnomes were very happy to help the elves. Minus helped the elves find the lost nuts. (8 minus 5 is 3 nuts.)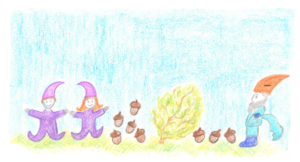 Times found 3 times as many lost nuts. (3 times 3 is 9 nuts.)
Divide gave 3 squirrels 6 nuts. Each squirrel had 2 nuts. (6 divided by 3 is 2 nuts.)
You can make your own math gnomes or purchase the Oak Meadow gnomes, who have been busy throughout the year (as you can see in their videos on our YouTube channel!).
Aligning expectations with reality
Homeschooling is a process of constant revisiting and adjustment. Don't be afraid to do some trial-and-error to find what works best for you and your child. If you try a particular approach and it feels overwhelming, adjust your expectations and try again. Ask other parents what works for them. Ask your children for their input. You may be surprised at their thoughtful responses!
Phone counseling through our Homeschool Support program is available for those who would like experienced guided help creating a homeschooling rhythm too: Keep your expectations realistic and trust that you can do this!
Inspiration!
Here's a little printable poster to hang in your homeschool space for when you need an extra dose of inspiration.