Our favorite books for your favorite little people
Curriculum activity from Healthy Living from the Start: People Who Help
Cursive is alive and well!
What is a main lesson book?
It's Spring! Build a bird nest supply box
Our favorite books for your favorite little people
Here's a list of favorites for kindergartners, from Oak Meadow K-4 teachers. Keep handy for your next trip to the library or used book store.
Milly Molly Mandy stories, by Joyce Lankester Brisley. There really is something magical about this story of a little girl and her family doing very normal things in an old English village from a time long ago.
Twig, by Elizabeth Orton Jones. Another one with plenty of adventure that starts off seeming to be in the most nothing-ever-happens-here kind of place.
The Borrowers, by Mary Norton. If you want a lengthier, rollicking read-aloud adventure, and your child can stay focused through complex story lines, then this is a treat and a half.
Our Animal Friends at Maple Hill Farm, by Alice and Martin Provensen. Very understated humor and delightful drawings accompany tales of real animals living with a real family in a real and imperfect old farmhouse. This is just one of many the Provensens wrote.
LMNOP and All the Letters A to Z,  by Howard R. Schrager. This book looks at the poetic nature of letters with beautiful block beeswax crayon drawings.
On Beyond Zebra? by Dr. Seuss. This rhyming picture book introduces 20 new letters after Z. Seuss, of course, created zany creatures that are spelled with the new letters.
Fairies From A to Z, by Adrienne Keith. The drawings are colorful and delightful, and the book is formatted in poetry style. This book includes special "fairy words" for each letter that are found along the borders of the pages.
The Gruffalo, by Julia Donaldson. The whole series by Donaldson features great rhyme schemes so younger kids who aren't quite reading can "read" along. The author does an excellent job featuring female characters in different roles.
Other favorites:
My Father's Dragon, by Ruth Stiles Gannet (series)
Jenny Linsky and the Cat Club, by Esther Averill (series)
Tumtum and Nutmeg, by Emily Bearn (series)
Children of the Forest, Elsa Beskow (Waldorf-inspired)
Curriculum activity from Healthy Living from the Start: People Who Help
Oak Meadow's health curriculum for K-3 provides a sequential guide through the grades to help families explore topics relevant to their child's growth and development. Chapters include nutrition, the growing body, hygiene, community, emotions, and safety. Here are activities to try from Lesson 11: People Who Help.
Kindergarten: Police officers
The goal is to help your child appreciate the important work of police officers and to feel comfortable around them. Have your child greet an officer and introduce him- or herself. Prepare some questions:
How long have you been a police officer?
How long did you study and train for the job?
What do you like best about your job?
Afterward, have your child draw a card of thanks for the officer's good work and deliver it to the local police department.
Grade 1: Firefighters
As with the activity in kindergarten, the goal is to help your child understand the vital work of firefighters. If possible, arrange for your child to meet a firefighter and have some questions ready:
How did you train to become a firefighter?
What safety gear do you wear when you fight a fire?
What equipment is stowed on the firetruck and what is it for?
Again, ask your child to draw a card of appreciation and hand deliver to the fire station.
Grade 2: Paramedics
In this activity, your child pretends to be an EMT (emergency medical technician) or paramedic. You are the victim, putting yourself in all sorts of imaginary difficulties; for example, you're trapped in a car that has flipped or you've suffered a broken ankle while hiking. Next, have your child simulate the rescue protocol using a few supplies to add realism.
Check for breathing and control bleeding.
Check for injuries and immobilize them.
Transport injured person to the ambulance and radio in a report to the ER doctors.
Grade 3: Hospital staff
The hospital can seem a confusing, frightening place, but a visit to a hospital lobby can help your child appreciate the large number of health care providers involved in the smooth operation of a hospital and patient care. Find a comfortable spot to sit and watch the comings and goings.
Point out the different people who work there and describe what they do.
Observe the different styles of uniforms: scrubs, lab coats, volunteer jackets or vests.
Discuss the purposes of the various wings or departments of the hospital.
Cursive is alive and well!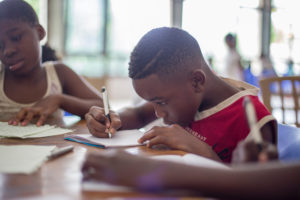 As a result of the rise of technology and the need for keyboarding skills, the Common Core Standards for education (launched in 2009) omitted training in cursive handwriting, and cursive all but disappeared from curricula across the country. Thankfully, the practice of cursive is making a comeback, and states are gradually reintroducing the requirement.
For homeschoolers, including cursive in the curriculum may come as naturally as including woodworking, knitting, and other handcrafts. Oak Meadow introduces instruction in cursive handwriting in third grade, tying it to lessons in poetry, ancient cultures, and arts and crafts. At this age, children demonstrate a new interest in careful work; learning cursive can fuel this and provide a practice to build on, often opening up pathways to new explorations and disciplines in writing and the arts. There is a certain physicality to writing in cursive that appeals to children and connects to the tactile, sensory experience of reading print books rather than electronic screens: the hand moving across the page to make continuous strokes of interconnected letters, the balance and melodic timbre of the spacing, the individual flourish and artistry left behind.
What is a main lesson book?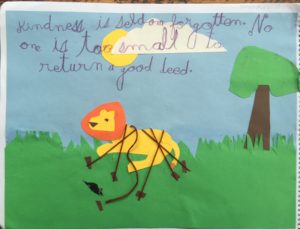 Your young student is learning to write, read, observe, and draw! What is the best way to record all this wonderful creativity and growth? Following Waldorf education tradition, Oak Meadow suggests using main lesson books (MLB) to capture your student's work. Throughout the year, the main lesson book fills with the student's drawings and writing. It is used as a learning tool as well as documentation of the student's work. The creation of a main lesson book nurtures qualities of thoughtfulness, intention, perseverance, and creativity. It becomes a showcase of the student's work as well as a cherished keepsake. Click here to learn more about how to use main lesson books and to see actual pages created by Oak Meadow students.
It's Spring! Build a bird nest supply box
They're so so busy at this time of year, our beautiful feathery friends. Give them a hand with this bird nest supply box, from Oak Meadow Craft for the Early Grades. Click on the illustration to download and print instructions.