Outdoor activity for winter: Make a colorful ice fort
Waldorf-inspired tip: The transformative power of storytelling
Curriculum activity: DIY puppet stage
Five ways to keep your balance in the midst of a busy life (printable PDF)
Holiday recipe: Pavlova!
Outdoor activity for winter: Build a colorful ice fort
In Vermont, where the Oak Meadow headquarters is located, outdoor activities don't end when the weather turns cold and snowy! Here's one way to make the best of shivery temperatures. Using colored ice blocks, build a colorful ice fort for a fun and beautiful outdoor play structure. This works best if you can freeze the water outside because you'll be able to make more ice blocks at once.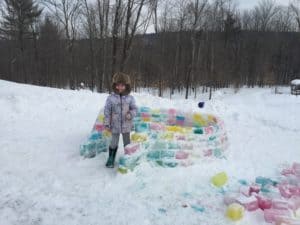 What you need
½ gallon paper milk or juice cartons
Food coloring
Water
Freezer or freezing temperature outdoors
What to do
Rinse out the containers and fill them with water.
Put a few drops of food coloring in each one.
Allow to freeze. Once frozen, tear off the carton.
Stack the blocks to create a fort, igloo, or any other structure or sculpture.
If snow is available, use it as mortar between the blocks for sturdier construction.
Waldorf-inspired tip: The transformative power of storytelling
Fairy tales and other traditional stories are an essential part of childhood development, which is why they have lived on for centuries as a rich oral tradition and have remained in the Oak Meadow curriculum. Oral storytelling is a flexible art that allows stories to be adapted to the audience. Many stories that we know from our childhoods were adapted from stories our parents heard as children. In the same tradition, we encourage parents to tell the stories in their own words rather than reading them verbatim. This lets each parent make changes that reflect their own values and life situation. This is the true spirit of oral storytelling.
Telling the stories aloud with no pictures accompanying the story helps children develop listening skills as well as the ability to create the images in their minds. Repeatedly retelling the story allows opportunities for children to join in telling the story, which enhances the personal images and allows them to focus on story elements that have personal relevance. The home teacher can also incorporate into the stories nature, family members, friends, and neighbors as a way of making them more personal and meaningful. The underlying themes of a good story are never gender- or race-based, but embody archetypes that are part of the human experience. Changing superficial elements of a story to make it more relatable will not affect the archetypes of the Nurturer, Leader, Jokester, Hero, Mentor, Innocent, or Villain. Retelling stories, drawing pictures, acting out the stories, putting on puppet presentations, or creating dioramas offer opportunities for children to absorb and reflect the underlying themes.
Another tip for telling an archetypal story is to verbally share without too much of an emotional tone—especially the emotions in the home teacher's voice that might instill fear, anger, resentment, etc. As an adult with a rich history and varied experiences, you will respond to the archetypes in a story very differently than a child will. Telling the story without adding layers of your own emotional expression of the story events will allow your child to filter it through a childlike lens.
It's also invaluable to allow children to absorb the story without interruption, both during the storytelling and afterwards. Talking with a child about every little detail of a story is an established habit for many adults. In fact, it's practically a cultural norm now for children to be asked to talk about their feelings, impressions, and opinions. This may originate from the belief that we need to encourage children to be more aware and continually teach and quiz them to "make them smart." It might stem from the efforts to treat the child as an equal voice in the family to build self-esteem and confidence. When a parent is conditioned to "discuss" a fairy tale's disturbing images with children, this focus on specific elements unnaturally emphasizes details over underlying themes. Discussing the tales afterwards only brings an adult perspective and awareness to story elements and prevents children from developing and using their own filters, based on their developmental stage. Letting the story rest in the child's mind and heart, and then asking for the child's interpretation of the story the next day will be of greater benefit.
Curriculum activity: DIY puppet theater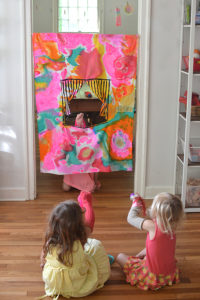 Making a puppet stage is very simple. There are many different methods. Here are five ideas to get your imagination working (from Oak Meadow Crafts for the Early Grades).
Idea #1
What you need: Large cardboard box (appliance boxes are great!), towel or fabric for curtain, dowel
What to do
1. Cut away one side of a large cardboard box. The is so the child can climb inside.
2. Cut a large square in the opposite side.
3. Drape a towel over the opening to be removed when the play begins. Or attach a dowel to the box which can support two light pieces of fabric. Draw open like curtains.
4. Your child can crouch inside the box (perhaps with the box elevated on a table) and present the puppet show from inside.
Idea #2
What you need: Small table or card table
What to do
1. Turn the small table on its side (a card table on its side with bottom legs open to support it works well).
2. Your child (or you!) can hide behind it and display the puppets over the top. If you have a couch that is easily moved away from a wall, it works too, giving your child a private space from which to display the puppets.
Idea #3
What you need: Curtain, dowel, or curtain rod
What to do
1. Make a special curtain, or use one you already have.
2. Attach it to a sturdy dowel. A tension rod (the type used for many shower or window curtains) would also work well.
3. Hang the curtain between two supports, such as hooks driven into either side of a doorway.
Idea #4
What you need: Curtain or beach towels, tension rod
What to do
1. Put a tension rod across the bathtub, at a height that would conceal your child sitting in the tub.
2. Make a special curtain or simply hang two beach towels over the rod.
3. Your child can use the bathtub as her backstage area, and present her puppet play from there.
Idea #5
What you need: Cloth for curtain
What to do
1. For an outdoor puppet play, a cloth draped over the porch railing can serve as a curtain, separating the puppeteer on the porch from an audience sitting on the lawn.
Five ways to keep your balance in the midst of a busy life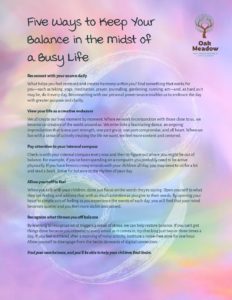 As a home teacher, seeking balance is essential, and it's an ongoing process. If we're out of balance and we try to teach our children, we diminish our effectiveness as teachers. We might miss the subtle cues in the learning process that enable us to be good teachers, or we might cause our children to become more imbalanced also, which reduces their ability to learn effectively. Click here or on the image to download our free printable with inspirational tips to help you maintain a sense of balance in the midst of your busy, messy, wonderful homeschooling life.
Holiday recipe: Pavlova!
Our southern hemisphere families who are enjoying summer weather won't be building ice block forts this holiday season, but many in Australia and New Zealand will be constructing a puffy pavlova, a celebratory dessert of crisp meringue filled with whipped cream and fruit. Even the tiniest hands can help spread the meringue and add the fruit decoration. Click here for the recipe (PDF).