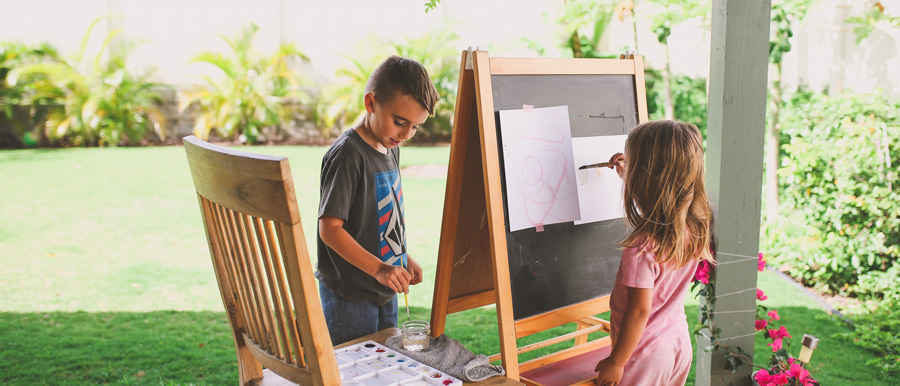 Once the big 'back to (home) school' day is marked on the calendar, it's time to start thinking of how to make the start of school extra special for both you and your homeschool student. Here are some tips to make the day memorable, fun, and smooth for everyone.
Whether it is your first day of homeschooling ever, or you're a veteran homeschool family starting another year of learning at home, this day is likely a special occasion. We know some students are eager to start their Oak Meadow lessons the MINUTE the new box arrives with fresh curriculum!
However, if you'd prefer to slide easily into things, dipping a toe into the main lesson books again with gentle art lessons, or restarting the morning routine with songs or a morning basket, by all means! There is no right or wrong way to start. But for many families, having a definitive starting day the entire family can see on the calendar makes for a smoother transition.
Here are some tips to get started for your best homeschool year yet.
Take Back to Homeschool Photos
Some families love to grab some Oak Meadow swag (t-shirts, hats, and aprons) to wear for their school photos. Others like to choose a special outfit and take a traditional porch photo. We've created a few fun printable First Day posters for your students to print, color, and sign for this fun photo op! Since you're at home, feel free to include siblings, parents, pets, favorite books, or curriculum in your photos.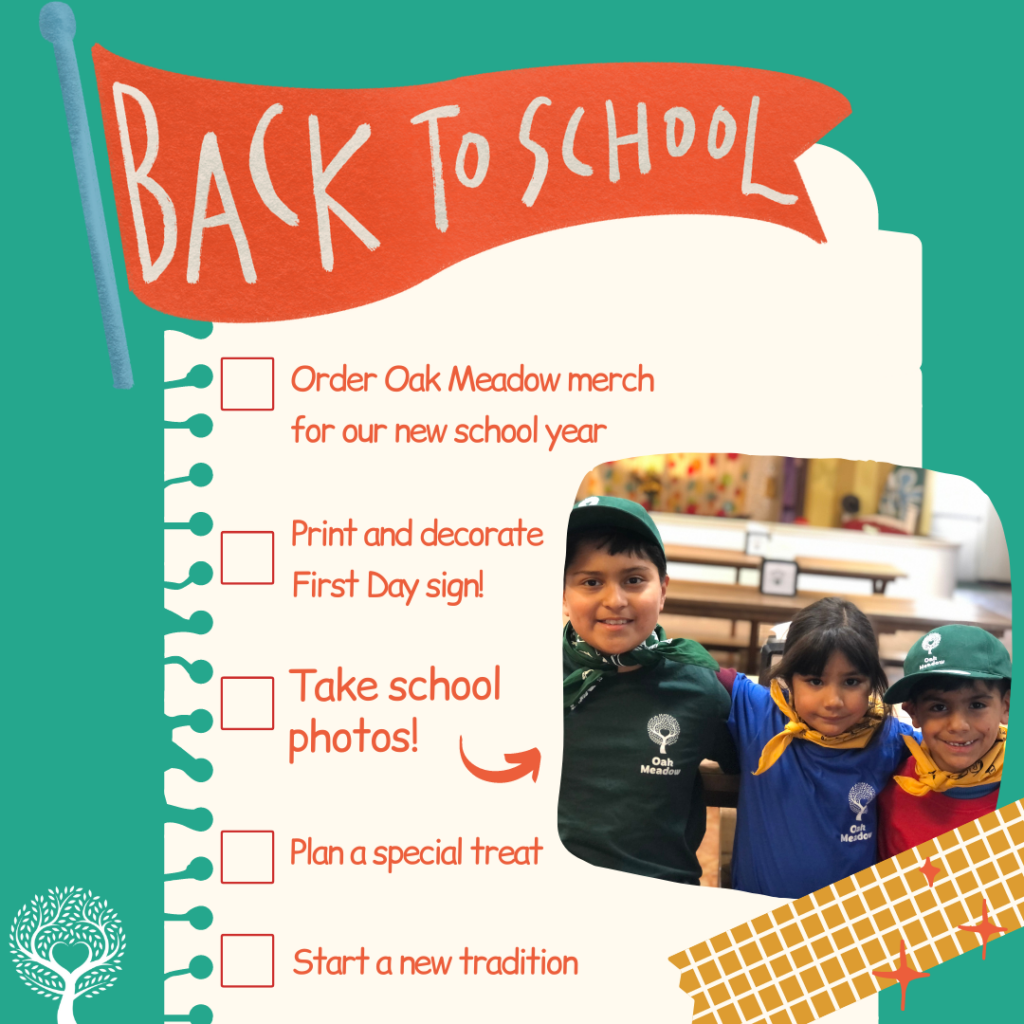 Plan a Special Lunch, Tea Time, or Dinner
Since you probably won't be packing lunch for your mid-day break, be sure to plan a special treat or tea time to break up the day. Older students might want to eat out, grab a favorite treat with a friend, or make their favorite lunch themselves. Perhaps it's a picnic outside or a beach-side cupcake that will keep your students focused for the first half of the day. If you're stuck for ideas, we have plenty of Snacks & Treats options on our Pinterest board! Or take a peek at this article about how to plan theme night dinners.
Start a New Tradition
The first day of school is a great time to start a new tradition. Any tradition! Maybe this year you really want to keep track of every book your student reads. Start with an empty shelf, and watch it fill up with finished books! Include a section for notecards where you can list library or borrowed titles your student finishes. Maybe you as a parent want to meal plan for the school year, so write up this week's meal plan and tape it to the fridge! Is an afternoon family bike ride this year's goal? Today's the day!
Another fun way to make the start of a new grade is to use Oak Meadow's blank curriculum cover coloring pages. Download and print your coloring sheet, and let your student design their own cover for their new coursebooks. You could even laminate their drawing, and attach it to their book!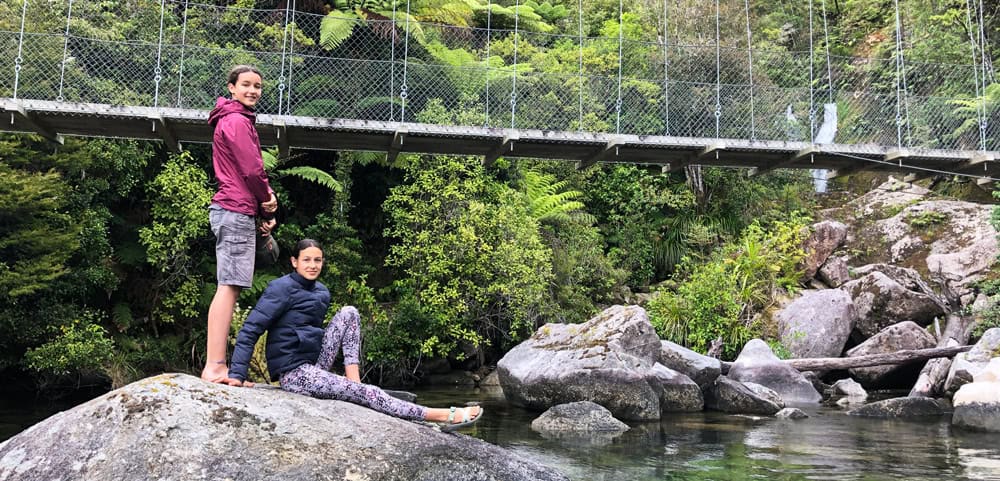 Include Outdoor Time
It can be tough to transition into a homeschool routine, especially when nice weather is beckoning for outdoor activities. Embrace nature's call by incorporating regular time outside into your weekly schedule. Silent reading time? Stretch out in that hammock! Math practice? Write them in chalk on the sidewalk. What field trips can you schedule so there are some special activities to look forward to in the coming weeks and months?
Flex the Flexibility
Flexibility is one of the BEST parts of homeschooling. As you ease into your homeschool routine (whatever that looks like this year!), remember you can flex as needed. If the library's summer sack-lunch series isn't over yet, flex your homeschooling schedule to accommodate the fun. If the neighborhood pool is open for another month, plan for an hour of swim time before or after morning lessons.
We hope you enjoy your back-to-school experience and know we are here for you if you have any questions. Feel free to browse our past blog posts, our free educational magazine Living Education, and our frequently asked questions. Or contact us if you need additional support.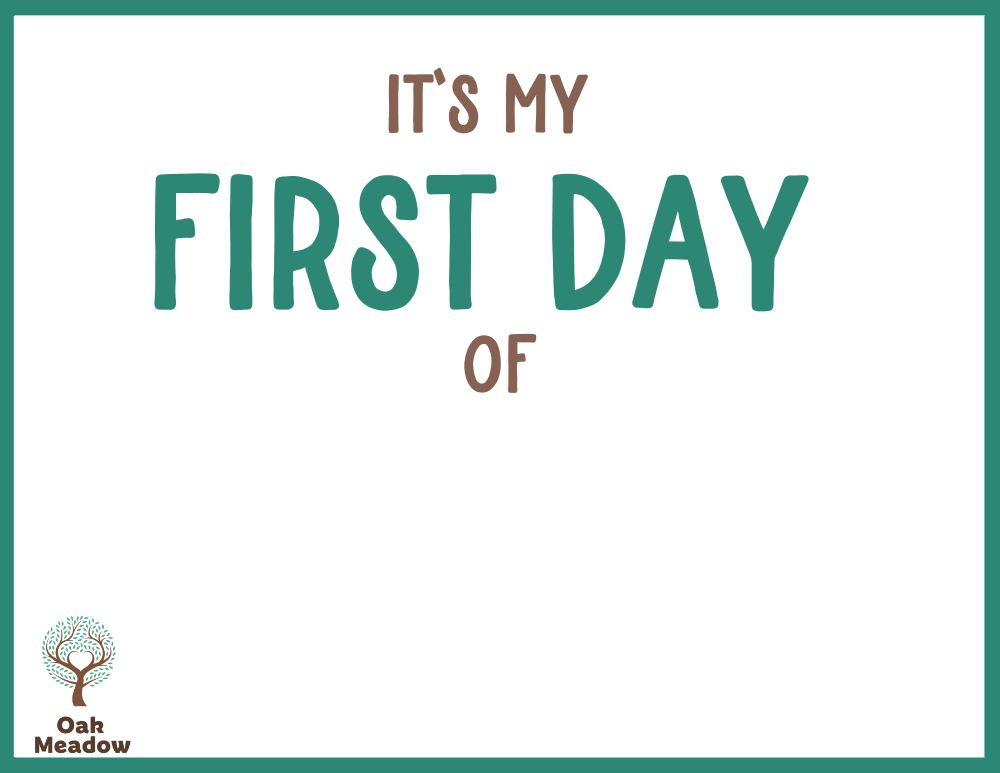 ---
Keep learning…